Are Extreme Couponers Crazy, or Smarter Than the Rest of Us?
By Aaron Crowe, dealnews writer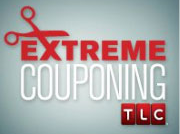 Some call themselves shopoholics; others are simply couponers. And others are admittedly dealnews addicts. We're talking about the people who spend 30 hours a week at their craft, clipping coupons, searching for deals or even jumping into Dumpsters. It's essentially a full-time job saving money.
In the new TLC series Extreme Couponing, which started Wednesday night, coupons are an obsession that helps one woman get a few hundred candy bars for free, and another to buy $238's worth of groceries for $6.92 after discounts and the grocery store's loyalty card discounts were subtracted from the bill.
"Coupons have allowed me to be absolutely debt-free. I don't owe anybody anything," one woman says in a preview on the TLC website.
Even though coupons save money, what would move someone to clip enough coupons to buy more than 10,000 items and fill their garage so it looks like a grocery store? One person in the show bought enough deodorant with coupons to last 150 years.
It is not, as you might suspect, the pure thrill of saving money, according to the psychologists and marketing experts we consulted. In the mind of an extreme couponer who is obsessive about the habit, saving money is only part of the reason, according to Elliott Jaffa, a behavioral and marketing psychologist. More important is the thrill of the chase and beating the system. "Psychologically they're getting something for free where they feel they beat the system," he says.
It is also "really about not wanting to be left out" and being able to brag to their friends that they saved a lot of money, says Michigan psychiatrist Sally Palaian. People who can't pass up a bargain are compulsive shoppers, and they go overboard on couponing and buy things they don't need.
"The marketing purpose of coupons is to get you to try something you might not normally try," says Jaffa. If you'll use the item (and use it up before it expires, breaks or goes bad), then saving money with coupons is a healthy pastime. Extreme coupling, however, can be turn into an obsession that's no different from overeating or being an alcoholic. Beating the system is great, Jaffa says, "but beat the system with things you're going to use, not store in your garage."
Diane Schmidt, who runs a website that helps people find coupons, says that some people in the online couponing community aren't happy with the TLC show because it goes too far. Some couponers profiled in the show are on the verge of hoarding, with garages filled with products they won't use, such as a childless couple who buys diapers.
The show could end up actually encouraging hoarding by showing how much money people can save, she says. And it could even lead to shortages on store shelves, she foresees. While some people on the show are getting groceries for free — or almost free — by using coupons, that's actually a difficult goal to reach for on a regular basis, because it often requires store sales, combined with triple or double coupon days at the stores.
"Everything has to line up perfectly," she says.
---
Aaron Crowe is a freelance journalist in the San Francisco Bay Area. He has worked as a reporter and an editor for newspapers and websites. Follow him on Twitter —
@AaronCrowe
.
DealNews may be compensated by companies mentioned in this article. Please note that, although prices sometimes fluctuate or expire unexpectedly, all products and deals mentioned in this feature were available at the lowest total price we could find at the time of publication (unless otherwise specified).