A Curved TV Costs $4,000... And Only One Person Can Watch at a Time
With an ever-increasing number of technologies being added to the TV gene pool — from Smart TV capabilities to HDR — consumers are now being given a dizzying array of options to consider before buying a new TV. With the buzz around 4K TV having tapered off, several companies have made headlines recently for introducing curved TVs. Samsung and LG both unveiled curved 55" OLED TVs at CES in January, with the latter arriving in stores in the United States first, and at a price just under $15,000. When Samsung sets reached U.S. shelves, though, the company did its competitor one better by offering their TVs for $6,000 less. (LG has since dropped the price of its 55EA9800 to a more competitive $9,999.98.)
SEE ALSO: Do You Need a Smart TV?
But most notably, Sony got in on the action last week when it unveiled a curved 65" LED (that will ship in October) for a penny shy of $4,000. Not to be outdone, LG debuted a whopping 77" curved OLED at IFA a couple days later, however the South Korean company didn't reveal a price or release date. Also at IFA, Samsung showed off curved 55" and 65" ultra HD LED LCD prototypes. Despite these IFA additions, however, Sony's offering suggests that, like 4K TV, pricing may soon fall into reasonable territory for average tech-savvy consumers.
Curved TVs: What's the Point?
Obviously, Sony, Samsung, and LG would like you to think that curved TVs are the wave of the future and that consumers should abandon their flat Smart TVs (much like we did with the ancient notion of the Earth's shape). These companies are likening the experience of watching a curved TV to going to the movies. "The gentle curve of this television borrows from the screen technology found in movie theaters, and provides an immersive experience that makes viewers feel as if they are truly part of the action and in the moment of the scene they are watching," said Mike Lucas, senior vice president of Sony's Entertainment and Sound division in a press release for the KDL-65S990A. Samsung has touted its KN55S9C in a similar manner, while also boasting in its press release that "the curved panel allows the distance between the user and TV screen to be the same from almost any angle."
At first glance, these assertions seem viable, but these new sets already have their critics. In reviewing Samsung and LG's 55" TVs, TechRadar's Steve May, explained how having a curved shape benefits a cinema screen differently than a television screen. For example, it "combats pincushion distortion caused by the throw distance of the projector; by carefully bending the screen, projected light is made to strike the entire surface at the same time." This is not a concern, however, with OLED.
Similarly, with the size of a cinema screen, it is possible for many viewers to be seemingly surrounded by the movie they are watching. These curved TVs however are simply not large enough to provide the kind of experience described by the manufacturers' PR materials to more than one or two people at a time. CNET's Geoffrey Morrison crunched the numbers and found that there's a small sweet spot in which one can be equidistant to all points of the screen; outside of that area, these TVs have diminishing returns.
OLED Is Impressive in Its Own Right
Several reviewers are more excited about the technology used in these screens than by their concave shapes. CNET's Brian Cooley was far more impressed with the image quality provided by Samsung and LG's OLED screens: "The curved screen to me is a sub-headline. What's really happening here is this OLED panel technology. This is the first TV ever that can show black. That is what TVs have always struggled with. Once you get that right, the color and the contrast all come into line." (Fortunately, LG is reportedly going to be taking its OLEDs mass-market next year.) Gizmodo's Andrew Liszewski was also more blown away by Sony's TRILUMINOS display technology than its curve. He succinctly summed up the appeal of these new curvy sets, stating that they are ideal for those living alone to escape into a movie or a video game.
So for the moment, it would seem that in order to benefit from the amazing visual experience that these thousand-dollar curved TVs purportedly offer, only one person can view it at time. For more sociable people, however, money is better spent either with a standard TV (60" plasma prices have bottomed out) or at the movies.
---
Related dealnews Features: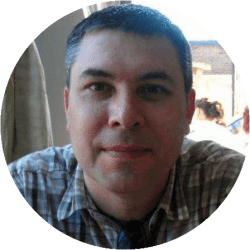 Contributing Writer
Stephen has been writing for such national and regional publications as The Village Voice, Paste, The Agit Reader, and The Big Takeover for 20 years. He covered consumer electronics and technology for DealNews from 2013 to 2018.
DealNews may be compensated by companies mentioned in this article. Please note that, although prices sometimes fluctuate or expire unexpectedly, all products and deals mentioned in this feature were available at the lowest total price we could find at the time of publication (unless otherwise specified).