6 Reasons Why the iPhone 6 is a Worthy Upgrade
The bigger sharper screen isn't the only feature worth noting on the iPhone 6; a new CPU and fitness features make this a worthy upgrade.
Apple's iPhone got its biggest redesign in recent years today as Apple CEO Tim Cook unveiled the iPhone 6 and iPhone 6 Plus. But whereas last year's models packed minor upgrades, this year's iPhones boast some serious new tech. Is it enough to give Android a run for its money? We'll let consumers decide that. In the meantime, we've listed a few of our favorite new features below.
Larger Screen Means It Finally Catches Up to Android
Although Steve Jobs once ridiculed smartphones with big screens, Apple did some major backpedaling today as it debuted two new larger iPhones, the iPhone 6 and iPhone 6 Plus. The phones feature 4.7" and 5.5" displays respectively, up from the 4" screen on the iPhone 5s.
The iPhone 6 features a 1334x750 resolution display, which offers 38% more viewing area than the iPhone 5s. Its big brother, the iPhone 6 Plus, features a 5.5" Retina HD display with 1920x1080 resolution and 88% more viewing area than the iPhone 5s. When compared to Android's current flagship, the Samsung Galaxy S5, the iPhone 6 Plus offers an extra 0.4" of screen real estate, making it Apple's first foray into the phablet market.
Faster Chip Designed For Sustained Performance, Better Gaming
Apple's new iPhones both house the company's new A8 processor, which Apple claims is 25% faster than its A7 predecessor. Graphics also got a major boost with a new graphics chip that's 50% faster than the previous generation. Unlike its predecessor, the new A8 was designed for sustained performance. Apple claims it can outperform other CPUs over a longer period of time because the A8 processor doesn't slow down due to heat. In real world use, that means you'll be able to play demanding games/apps without having your phone turning into a mini-iron.
New M8 Coprocessor Will Kill the Fitbits of the World
Like it or not, Apple wants you to get fit and its new iPhone features a redesigned M8 coprocessor that can now track distance and elevation. For fitness buffs, Apple also claims its phones will be able to distinguish between running and cycling, a feat that many of today's fitness gadgets can't perform. In addition, the M8 coprocessor will be able to count the number of stairs you climb per day. Does this mean all new and existing fitness gadgets — including Apple's own Apple Watch — are DOA? It's too early to tell whether the smartphone can chalk up another victory for its industry, but things are looking grim for the Fitbits of the world.
Is It the First iPhone to Last 48 Hours Without a Charge?
Despite the iPhone's extra muscle, the new A8 chip is said to be 50% more energy efficient than the A7. Apple was vague about how much extra battery life you'll be able to squeeze out of your iPhone in daily use, but one thing is for sure, this iPhone should offer a noticeable boost. While we await the initial reviews, Apple is offering these stats: 14 hours of 3G talk time for the iPhone 6, and 24 hours for the iPhone 6 Plus; 10 days of standby for the 6, 16 days of standby for the iPhone 6 Plus; and 11 hours of video for the 6, 14 hours for the 6 Plus.
It Can Handle Mobile Purchases with Ease
The new iPhones are the first Apple devices to feature NFC technology. Essentially, that means the new phones will let you purchase in-store items by simply tapping your iPhone at a supported credit card terminal. Your address and credit card information will already be housed inside your iPhone so you can make purchases direct from your smartphone without the need for your wallet. Purchases are authenticated via the iPhone's TouchID sensor. To be fair this technology isn't new, but with Apple's heft, this could be the big break it needs to gain traction. Retailers that support this method of payment include Whole Foods, Macy's, McDonald's, and Walgreens.
It Packs Improved Video Capabilities, Including Time Lapse
Although the new iPhone maintains the same 8-megapixel shooter found in the iPhone 5s, the iPhone 6's iSight camera packs a new sensor which allows for an autofocus that's twice as fast as that in the iPhone 5s. And while the iPhone 6 uses digital image stabilization to combat blurry photos, the iPhone 6 Plus has an optical stabilizer. In addition, the new camera offers improved facial, blink, and smile detection, which should make taking those selfies that much quicker. And if you didn't download Instagram's new Hyperlapse app, the new iPhone has a time-lapse feature built-in.
In terms of pricing, Apple has kept the starting price of the iPhone at $199 for the 16GB iPhone 6. The 32GB slot has been replaced with a 64GB model at $299, and Apple is now offering a 128GB model for $399. Pricing on the iPhone 6 Plus is slightly higher, starting at $299, $399, and $499, for the 16GB, 64GB, and 128GB models, respectively. (All prices are for subsidized models). However, as we've noted before, retailers are quick to discount the iPhone so it shouldn't take long before we start seeing some deals on the iPhone 6.
Are you rushing out to the store for the 6 or 6 Plus? Or do you think this update is all hype? Let us know in the comments below.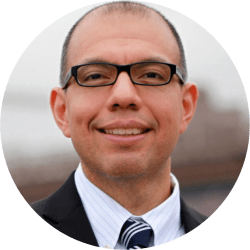 DealNews Contributing Writer
With over a decade of experience covering technology, Louis Ramirez has written for CNET, Laptop, Gizmodo, and various other publications. Follow him on Twitter at
@louisramirez
.
DealNews may be compensated by companies mentioned in this article. Please note that, although prices sometimes fluctuate or expire unexpectedly, all products and deals mentioned in this feature were available at the lowest total price we could find at the time of publication (unless otherwise specified).