10 Recent Indie Horror Movies to Stream on Netflix
These lesser-known fright flicks will have you ready for Halloween in no time; and with a Netflix subscription, they won't scare your wallet.
Whenever the calendar flips over to October, horror movies instantly become one of the most popular nightly activities inside homes across the country. There's truly never a better time to watch something scary than in October, when dead leaves litter the street, the jack-o'lanterns are lit, and bite-sized candy bars become acceptable alternatives for breakfast, lunch, and dinner. (Nobody's judging, we promise.)
There are countless horror classics you could cuddle up to on the couch and watch this Halloween season, and though we encourage you to do just that, we also thought you might like to discover some new treats along with the old. So in an effort to ensure that you get the most out of this wonderful holiday season, we've compiled a list of 10 lesser-known movies, all of which were released since 2009.
They all happen to be available for instant streaming on Netflix (and we've linked to them here). So if you've already got a membership, you won't have to pay anything additional before you're enjoying the frights.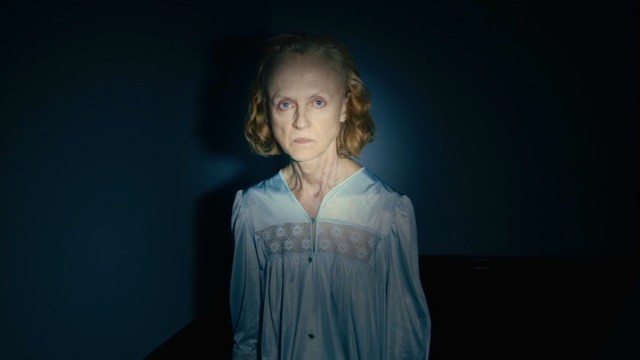 Best For: Those who like their horror as scary as can be.
Released in October of last year, Adam Robitel's The Taking of Deborah Logan was easily the scariest export of 2014, proving that the found footage gimmick can still be effectively utilized. The film centers on a crew making a documentary about Deborah Logan, an elderly woman who appears to be suffering from Alzheimer's. But it soon becomes clear that something much more unnatural is going on. This one is home to one of the most terrifying movie scenes of all time, so be prepared for nightmares.
Choice Cut: One night, after an antique switchboard starts going off in the attic, the camera crew investigates and finds Deborah Logan operating it &mdash completely nude and speaking in an inhuman voice.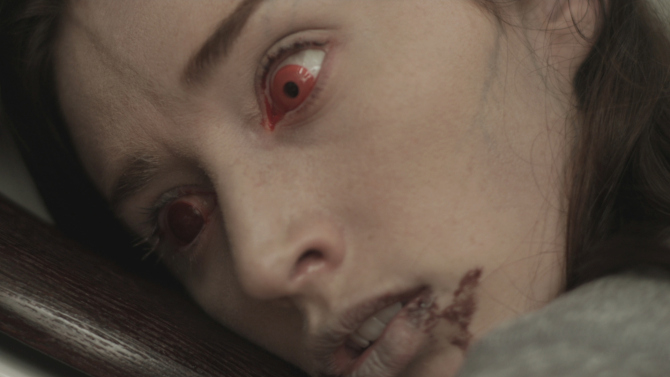 Contracted (2013)
Best For: Anyone who doesn't mind being completely grossed out.
After a young woman named Samantha is drugged and raped at a party one night, she soon realizes she has acquired a particularly nasty sexually-transmitted disease, in Eric England's 2013 film Contracted. Despite her best attempts to brush it off and carry on with her life, Samantha is unable to run away once her body literally starts falling apart. Highlighted by a terrific lead performance from Najarra Townsend, this one is a potent body-horror film, sure to disturb you in all the right ways.
Choice Cut: Samantha, who works as a waitress, discovers that the infection is causing her fingernails to peel off. It's not long before a guest finds one of them in her food.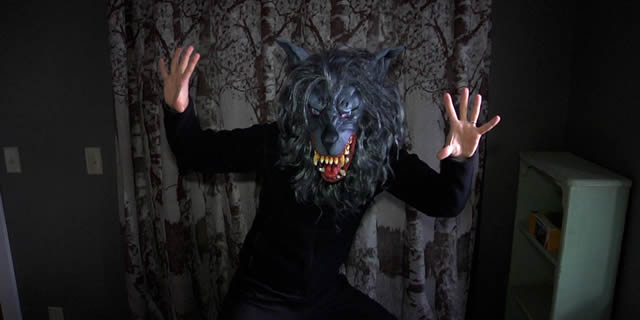 Best For: Viewers who like to ride the edge of their seat.
In Patrick Brice's found footage film Creep, Brice himself stars as Aaron, a videographer who agrees to film a mysterious stranger for 24 hours. The man, Josef (Mark Duplass), tells Aaron that he has cancer and wants to leave behind a video diary for his unborn son, though his strange behavior suggests that he's not quite telling the truth. A journey into the mind of a disturbed man, Creep is riveting from beginning to end; and Duplass is delightfully, well, creepy.
Choice Cut: When Aaron finds a scary wolf mask in the closet, Josef tells him it's a relic from his childhood. He refers to the mask as Peach Fuzz, and wears it for a strange song and dance number.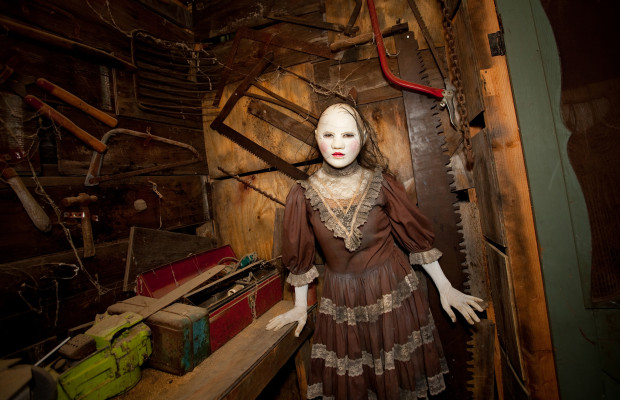 The Houses October Built (2014)
Best For: Anyone who considers haunted attractions a highlight of the Halloween season.
A seamless fusion of real footage shot at haunted attractions and fictional thrills and chills, Bobby Roe's The Houses October Built documents the journey of a group of friends who are seeking out the most terrifying haunt in the country. Though it's all fun and games at first, they eventually find themselves inside of a very real experience that they won't all make it out of. This one is essential viewing for the Halloween season, likely to make you question who is really behind the masks at your local haunt.
Choice Cut: After attending a haunt, the gang finds themselves stalked by a mask-wearing female performer, who doesn't appear to be playing by the rules of the attraction.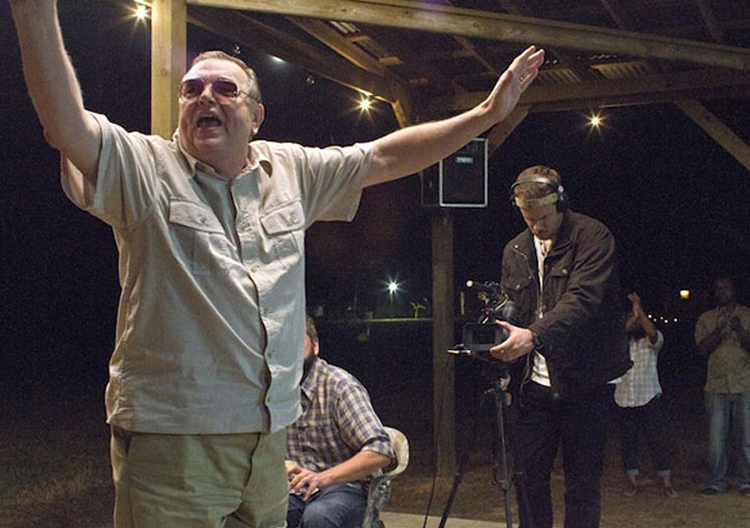 The Sacrament (2013)
Best For: Viewers with an interest in fictionalized takes on real-life horrors.
Ti West has established himself in recent years as a modern day master of horror, and 2013's The Sacrament is perhaps his most accomplished film to date. Inspired by the real-life Jonestown Massacre, the movie is about two journalists investigating a remote commune deep in the woods, ruled over by a charismatic figure referred to only as Father. Everyone seems happy on the surface, but what's going on is nothing short of a waking nightmare. Expect to be deeply disturbed by the horrors on display here.
Choice Cut: The journalists realize the commune harbors sinister secrets when they're approached by a group of residents who beg for help. "You don't know what's really going on here," they're told.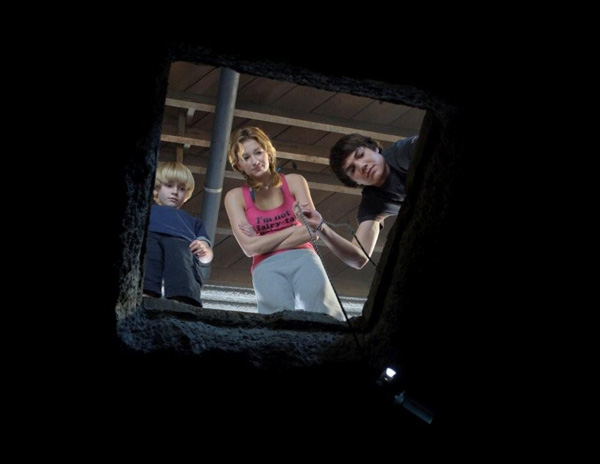 The Hole (2009)
Best For: Families looking for kid-friendly thrills and chills.
Gremlins director Joe Dante returned to the horror genre in 2009 with little-seen movie The Hole, which was only recently made available for mass consumption. A throwback to scary adventure movies of the 1980s, the film centers on two young brothers who find a mysterious hole in their basement, leading directly into their deepest and darkest fears. Wholesome fun that packs a positive message, this one is a real treat for audiences both young and old. It's great for some family bonding around a Halloween fire.
Choice Cut: One of the brothers, who is terrified of clowns (who isn't?!), is forced to face his fear when a creepy clown puppet comes to life and attacks him.
Tucker and Dale vs. Evil (2010)
Best For: Fans of horror movies that pack laughs along with the gore.
The fusion of horror and comedy rarely works as well as it does in 2010's Tucker and Dale vs. Evil, which puts an uproarious spin on the common horror movie depiction of backwoods weirdos. Living out in the woods of West Virginia, Tucker and Dale are two hapless hillbillies who mean well, though a group of friends on a camping trip immediately assume otherwise. Thanks to a series of unfortunate misunderstandings, the friends are brutally knocked off one-by-one. Clever, hilarious, and so much fun.
Choice Cut: While cutting up a log, Tucker accidentally slices through a hive, unleashing hundreds of bees. Still armed with a chainsaw, he frantically runs from the scene, which the teens mistake for hostility.
The Den (2013)
Best For: Anyone who is completely obsessed with the internet.
Before Unfriended made everyone terrified of the internet, Zachary Donohue's The Den similarly exposed the dark side of the world wide web. In the film, entirely viewed on a computer screen, a woman named Elizabeth is awarded a grant to conduct a social experiment on a video chat platform, spending her days interacting with strangers. But things take a turn for the horrifying when she witnesses the live murder of a fellow chatter. Just when you thought it was safe to turn on your laptop...
Choice Cut: Elizabeth pays a visit to the house of a friend who has invited her over. Once she arrives, Elizabeth finds that it wasn't actually her friend who sent the invite — and there's blood everywhere.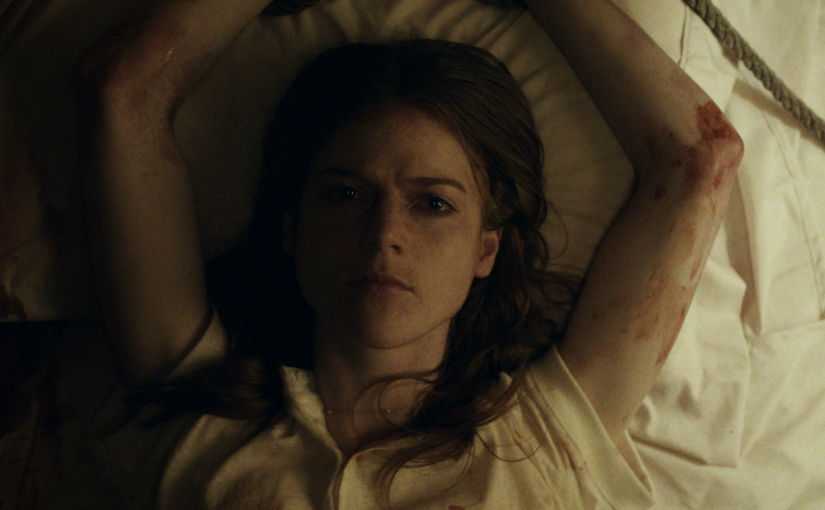 Honeymoon (2014)
Best For: Anyone who likes a side of science-fiction with their horror.
Leigh Janiak (who directed an episode of MTV's Scream) made her feature debut last year with the impressive Honeymoon, telling a tale of young lovers who head out to a remote cabin in the woods for a little romance. Though everything is serene at first, a late night foray into the woods one night seems to change Bea (Game of Throne's Rose Leslie) on a cellular level, leaving Paul to try and figure out what's going on with his wife. Allegorical, heartbreaking, and creepy, this one breathes new life into the "cabin in the woods" set-up.
Choice Cut: Still unsure what is happening, Paul finds Bea talking to herself in the mirror, and she's creepily practicing things she's soon going to say to him. Something is very, very wrong.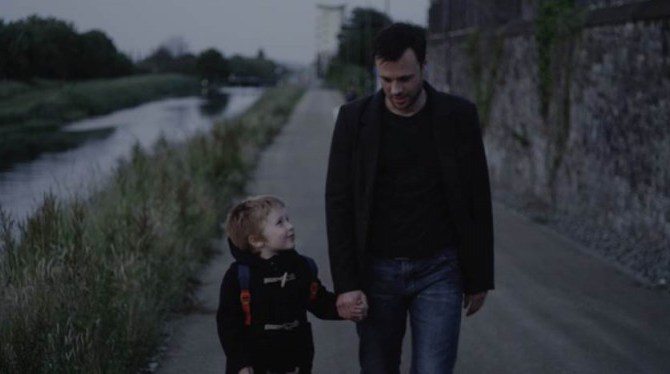 The Canal (2014)
Best For: Lovers of ghost stories who are okay with losing sleep.
Hollywood ghost stories haven't been all that scary of late, but Irish filmmaker Ivan Kavanagh's The Canal reminds us that a well-told one is still as terrifyingly potent as ever. After his wife is found dead in the titular canal, film archivist David becomes convinced that a demonic entity is to blame, and he sets out to uncover the mystery of what happened. What he finds changes him forever, and will likely chill you to your very core. This is horror done right, and one of the downright scariest films in recent years.
Choice Cut: Hoping to capture evidence of paranormal activity, David uses an old hand-crank camera to film near the canal. It's not long before he finds what he was looking for... and you'll wish he hadn't.
Readers, what are some of your favorite horror movies to watch in October? Share your picks in the comments below!
---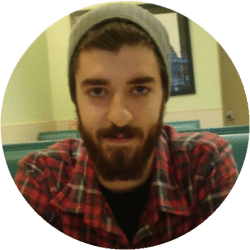 DealNews Contributing Writer
John Squires is a freelance writer in the horror community, contributing regularly to the websites Dread Central, Shock Till You Drop, iHorror, and Halloween Love. Follow him on Twitter
@FreddyInSpace
.
DealNews may be compensated by companies mentioned in this article. Please note that, although prices sometimes fluctuate or expire unexpectedly, all products and deals mentioned in this feature were available at the lowest total price we could find at the time of publication (unless otherwise specified).