10 Reasons to Watch the Veronica Mars Movie at Home (Instead of in Theaters)
The new Veronica Mars movie will be available to rent or buy on the same day that it hits theaters. Here's why we think you should decide to opt for the stay-at-home option.
On March 14, Veronica Mars fans will have their greatest wish granted (sorry "world peace") when the show returns in movie form. Finally, we get to have some closure on our favorite teen sleuth! (Unless the movie does gangbusters and there's a sequel, then we're back to waiting. What a hard life we lead!)

The movie, which was funded in an unusual way (by crowd-sourcing the funds — over $5 million of them — on Kickstarter) is also going to have an unusual release schedule, too. On the same day the film hits cinemas, it will also be available to buy or rent digitally via video-on-demand services.

There's no information yet about which services will offer the movie, nor how much the digital versions are going to cost; however, based on historical pricing of "new" digital movies (meaning "newly available on iTunes," et al), we're estimating that the purchase price will be around $20 for the HD version or $15 for SD, and around $6 for the rental in HD (about $5 for SD). With the current average movie ticket price hovering around $7.96, it might make fiscal sense to skip the theater and settle in at the ole home theater, instead.

But don't let the cost, alone, drive your decision! Here are 10 very valid reasons for you to watch Veronica Mars at home.
As we already mentioned, the rental price is cheaper than buying a ticket. Sure, it's only by $2, but if you invite friends over and charge admission, you can turn a profit!


It's probably not the type of movie you need to see on the big screen. There aren't any space battles, or anything that will "wow" you as a 30-foot image. (Though maybe a 30-foot tall Kristen Bell does have some appeal to several of you.)


With a run-time of 108 minutes, is it long enough to warrant putting pants on and leaving the house?


Come to think of it, there are very few things that are worth putting pants on and leaving the house for.


There will be no fewer annoying / chatty / loud-chewing co-watchers. (At home, there are a limited amount, and they're your family members and friends, so you won't worry about getting beaten up if you yell at them.)


You can check your phone during the boring parts without worrying about getting dirty looks from those around you.


There's no stigma against using your laptop at home. (You know, to look up cast information via a PlanetZowie search.)


There might not be any trailers before an at-home rental, but you can sing "We Used To Be Friends" at the top of your lungs.


You can watch alone so that there's no one around to judge you for your squee-moment when Logan and Veronica finally hook up again. (They're epic!)


Theaters don't serve marshmallows, anyway.
After that air-tight argument, what have you decided? Are you going to go to the theater? Stay at home and rent it? Stay at home and watch something else? Tell us your Veronica Mars plans in the comments below!
---
Related DealNews Features: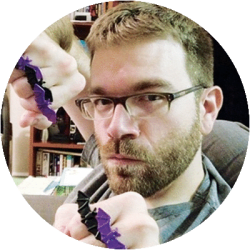 DealNews Contributing Writer
Jeff Somogyi is constantly trying to come up with ways to surprise and delight audiences the world over. He takes humor seriously ... too seriously. (Honestly, we've never seen him laugh ... it's kinda creepy.)
DealNews may be compensated by companies mentioned in this article. Please note that, although prices sometimes fluctuate or expire unexpectedly, all products and deals mentioned in this feature were available at the lowest total price we could find at the time of publication (unless otherwise specified).