Whether it's a smart assistant, a security hub, a smart lighting setup, or one of the many other home automations on offer, these are our picks for the best smart home deals available right now.
Best "Excuse to Yell at Your TV" Deal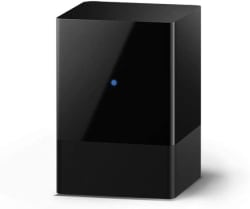 Amazon Fire TV Blaster
Store:
Amazon
Price:
$19.99
Shipping:
Free shipping w/ Prime
Lowest By:
$15
There are plenty of reasons to yell at your TV: your favorite team is winning (or losing), the complete imbecile in the horror movie has run back into the house where the killer is obviously waiting, or maybe a game show contestant is struggling to answer an easy question. Now with this little device you can put all that vocal energy to good use and actually command your TV like you're on the deck of the Starship Enterprise. Working as a companion to your compatible Fire TV and Echo devices, you can control the power and sound of your TV or soundbar with just your voice. I wonder if they make one that works on teenagers?
Best Smart Switch Deal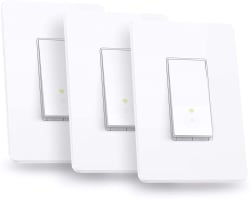 TP-Link Kasa Smart WiFi Switch 3-Pack
Store:
Amazon
Price:
$34.99
Shipping:
Free shipping
Lowest By:
$5
And God said "Let there be light," and nothing happened. God fumbled around in the dark for a bit and found his iPhone 4,000BC, and ordered a TP-Link Smart Switch 3-Pack, being careful to clip the $5 off coupon on the product page. And he saw that the TP-Link switch was good, insofar as it was compatible with Alexa, Google Assistant, and Microsoft Cortana, so next time he tried his "let there be light" parlor trick, he wouldn't look like such a fool in front of his friends.
Top Smart Security Deal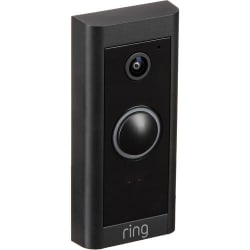 Ring 1080p Wired Video Doorbell
Store:
B&H Photo Video
Price:
$44.99
Shipping:
Free shipping
Lowest By:
$15
In an ideal world, a house-caller would walk up to your door, press the big button in the center of this doorbell, and be blasted physically backwards by audio of this. But that's probably illegal, so in the meantime you can make use of the features, which include 1920x1080 (1080p) video resolution, 155° horizontal field of view, night vision, and motion detection with custom zones.
Best Smart Lighting Deal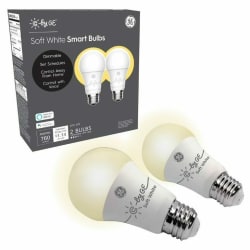 GE Lighting Outlet
Store:
eBay
Discount:
Up to 25% off
Shipping:
Free shipping
Smart bulbs, smart LED strips, smart lanterns, smart grow lights... all the smartest lighting in town, at foolproof prices. Now, go GE Lighting! You're burning up the quarter mile.