The experts within Castle DealNews love nothing more than a strong discount on the biggest shoe brands, so keep your eyes affixed here for the best deals on Nike, adidas, New Balance, Birkenstock, and more.

Best Men's Sneakers Deal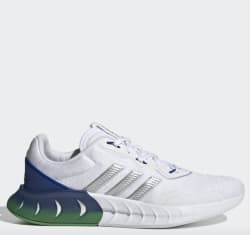 adidas Men's Originals Kaptir Super Shoes
Store:
eBay
Price:
$54
Shipping:
Free shipping
Lowest By:
$14
I tried to find some unique meaning to the word "Kaptir", but it seems like it's really just a phonetic play on "captor", which is a weird choice for a shoe. But dwelling on etymological possibilities fails to capture (a-ha) the bargain available here, which is a $14 low in Cloud White/Silver Metallic.
Best Women's Shoe Deal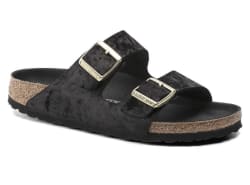 Birkenstock Women's Arizona Textile Sandals
Store:
Birkenstock
Price:
$84
Shipping:
Free shipping
Lowest By:
$56
There are limited sizes (Birk) in stock, but if you can find one that fits you, you can save over $50 on these textile sandals. They call it a "genuine classic with its timeless design", which is one way of saying "it looks like a sandal... yep, pretty much a sandal – 100% authentic in its sandal-ness".
Best Shoe Clearance Deal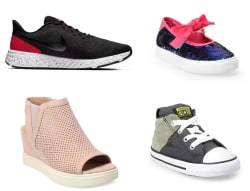 Kohl's Clearance Shoes
Store:
Kohl's
Discount:
Yes, around 500 of them
Shipping:
$8.95 s&h,
or free shipping w/ $75
The five best-represented brands in this near-500-strong clearance sale are: Nike, Sonoma Goods for Life (naturally – the house brand), adidas, SO, and New Balance. This is good, useful information. Let's now go overboard, and list the five best-represented sizes: 7, 7.5, 8, 10, and 9.5. We continue down the rabbit hole with the five best-represented colors: Black, Grey, Brown, White, and Blue. And finally, we round out this perhaps pointless diversion with the five best-represented "occasions": Casual, Active, Fashion, Winter, and Dress.
Best Men's Boot Deal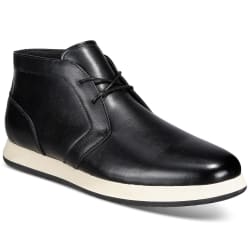 Alfani Men's Keith Hybrid Chukka Boots
Store:
Macy's
Price:
$27.93
Shipping:
Free shipping
Lowest By:
$42
Alfani's decision to name its shoes after people is a strong one. Especially if they mandate that salespeople exclusively refer to them by that name.

"I'd like to try those on, please."
"Oh, yes, Keith is very popular, and very cheap right now too."

"I like these shoes, but do you have them in my size?"
"I'm sorry, Alan is only available in large these days."

Etc.