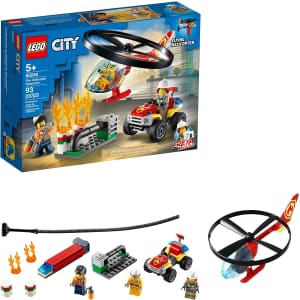 Tips
It's available for pickup only.
Features
for ages 5+
93 pieces
Model: 60248
↑ less
Gaming & Toys: The Basics
Whether you're shopping for your kids or yourself, DealNews is determined to show you the best toy deals online. Buy all the toys you want without breaking the bank!
Gaming & Toys Sub-Categories
From classic toys like dolls and dress-up clothes to LEGO sets, scooters, stuffed animals, and more, DealNews has the best toy deals to fit your budget.
Whether you prefer PlayStation, Xbox, or Switch, shop deals on new and old video games , accessories , and consoles .
Prefer playing on PC? DealNews has the best toy deals on computer games. Whether you want something complicated and creepy or peaceful but puzzling, check out video game deals for both PC and Mac systems.
Family game night was made for card and board games, and DealNews has the best toy deals on titles for all ages.
Whether you prefer PlayStation 4, Xbox One X, or a VR system, shop the best toy deals on consoles at DealNews.
Frequently Asked Questions
How often should you clean kids' toys?
Most toys should be cleaned weekly, but baby toys (which are often put into mouths) should be cleaned every one to two days. If your kids have a playdate, toys should be cleaned immediately afterwards. And if your child is sick, it's important to clean and disinfect toys thoroughly when they've recovered.
How do you clean kids' toys?
Cleaning steps for toys varies depending on the type of toy, so it's recommended to follow these guidelines:
Solid plastic toys can go in the top rack of your dishwasher. Select the normal or sanitizing cycle and heated dry. If anything comes out still wet, allow it to completely dry before letting your child play with it again.
You can also use Clorox or Lysol wipes to clean plastic toys , or a cloth wet with a 3% hydrogen peroxide solution. Alternatively, you can also soak them in a mix of a half cup of chlorine bleach and one gallon of water. If you opt for one of these methods, once the toys are dry, rinse them and let them air dry again before giving them back to your child.
If washing stuffed animals, check the care label first. If they're colorfast and okay to be washed in the washing machine, tuck them into a pillowcase and knot the top to protect them. Wash on the most gentle cycle you have, with warm water and a slow spin. You can then dry the toys in the dryer (leave them in the pillowcase) on a low-heat setting.
If plush toys can't be washed by conventional means, wipe it down with a warm sudsy solution. Rinse with a cloth dipped in warm water. Allow the toy to air dry, or you can use your hair dryer on low heat.
Electronic toys can be cleaned with a disinfectant wipe , an alcohol wipe, or a cloth dipped in a mix of four teaspoons of chlorine bleach to one quarter cup of water. Make sure the toy remains wet for five to ten minutes, then let it air dry. If it's something your child will stick in their mouth, wipe it down with a damp, clean cloth and let it air dry again.
Check out this helpful guide from Good Housekeeping for more information.
Can you wash stuffed animals?
If they're colorfast, it should be fine to tuck them into a knotted pillowcase to keep them protected in the washer. Wash them on a gentle cycle, with warm water and a slow spin. Otherwise, you should spot clean the stuffed animals and dry them with a hairdryer.
When do LEGOs go on sale?
Black Friday is when we tend to see the most LEGO deals spread across the most stores, but it's not the only time to purchase these popular toys. Keep an eye out throughout the year, particularly at stores like Target and Walmart . Expect these retailers to have big toy sales that include LEGOs, or just offer select sets at discounted prices.
Check out this Blog post, too:
When do NERF toys go on sale?
Shop toy deals on the NERF brand in November and December. Others will pop up throughout the year, but the best toy deals will be found at the end of the year.
When do Barbie dolls go on sale?
The best toy deals on Barbies will be found in November and December. Look for them to be included in big toy sales, with discounts of up to 80% off.
What store has the best toy deals?