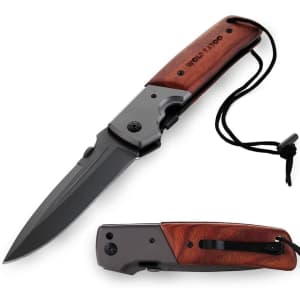 Tips
Sold by WTT Shop via Amazon.
Available in option A at this price.
Features
4.7" titanium plated stainless steel blade
red wood handle
↑ less
1 comment
cgalny
Is this legal in NY? I thought maximum blade length is limited to 4 inches. This is the first time I've been able to order ANY knife from Amazon for a very long time. Every attempt at ordering any knife would automatically be disallowed, since I live in NY. But this order was accepted. And for such is a huge folding knife!