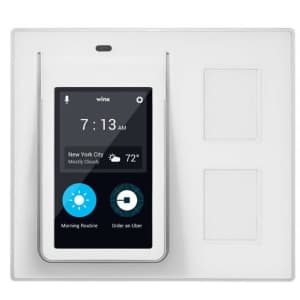 Tips
sold by hypermicrosystems via eBay
Features
4.3" touchscreen
wall mount
voice control via Alexa
↑ less
Expired 9/5/2021
Published 8/17/2021
Verified 9/1/2021

Popularity: 4/5
3 comments
huanle
So DON'T buy under any circumstances. Maybe if they give it away for free and you have the time and know-how to tinker with it for fun. Otherwise, it's garbage. Like previous poster said, it requires monthly service fee. But even then, they are focusing on saving the Hub not the Relay.

Again, DO NOT waste your money. I have a Wink hub if anyone wants a paper weight for their desk.
huanle
I have one. It was good when Wink was good. Now the Wink hub serves as a paper weight. At one point I was able to "jail break" this thing to use the Android OS underneath. That lasted for a bit and then the whole thing just stopped working. Not because it's bricked but because the back-end service and support weren't there any more. You can't even use the button to physically turn things on or off let alone doing it remotely.