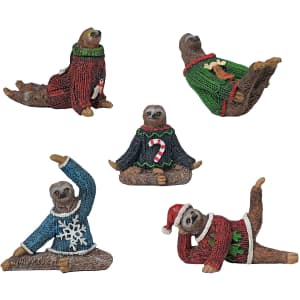 Shop Now
free shipping w/ Prime
Call them gag gifts, Dirty Santa possibilities, white elephant gifts, or get-back-at-the-ex opportunities. In any case, they run the gamut from fun to weird, to downright insulting, so you can find something for everyone in this roundup of stuff destined to end up in a yard sale. Shop Now at Amazon
Tips
Pictured are the Bella Haus Design Yoga Sloth Figurines in Ugly Christmas Sweaters for $25.
↑ less
Expired 1/6/2022
Published 12/30/2021
Verified 1/4/2022

Popularity: 4/5
1 comment
bjturk512
I didn't buy this before Christmas because I didn't have a single white elephant on my Christmas list this year. For that matter, I didn't have any married white elephants on my list, either.

Related: why would white elephants want knickknacks for Christmas?