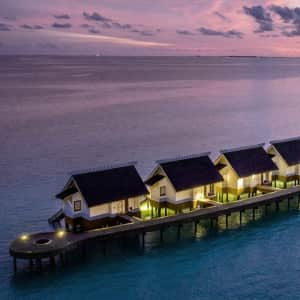 more
That's the best price we could find by $899. Plus, you'll bag airport transfers (by speedboat!), daily breakfast, daily cocktails, $100 food and beverage credit, complimentary snorkeling equipment use, and more. Buy Now at Travelzoo
Tips
Taxes and nightly surcharges apply and may vary.
Cancel within 14 days of purchase for a full refund (this period can be extended during checkout.) Once you book with the property, changes and cancellations are subject to the resort policies and must be made at least 7 days prior to arrival.
Book this travel deal for travel from April 2023 through April 2024.
Features
The 5-Star SAii Lagoon Maldives on South Male Atoll, Eh'mafushi, Maldives has an Expedia rating of 92% based on 87 reviews.
↑ less
Published 3/9/2023

Popularity: 4/5