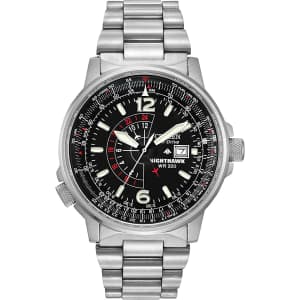 Up to 80% off
free shipping
more
There are hundreds of men's and women's pieces to choose from, with prices starting from $17. Shop Now at Amazon
Tips
Pictured is the Citizen Men's Eco-Drive Promaster Nighthawk Quartz Watch for $211.61 ($183 off).
↑ less
Expired 10/11/2022
Published 10/10/2022
Verified 10/10/2022

Popularity: 5/5

Staff Pick

Deals so good we bought one ourselves
2 comments
The Prof
Mostly leftover unsold junk. But if you are looking for a cheap throwaway watch take a look.
Apple lover
99 percent of the sale watches are for Women. As a male, a None Starter for me.
Suggest you change your description that there are Watches on Sale for men and Women.