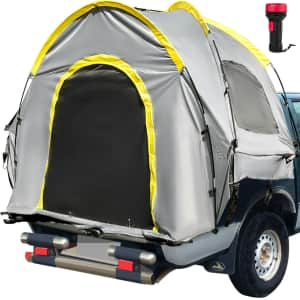 Tips
5-Foot Tall Bed for $83.99
6.5-Foot Full Size for $85.99
6.4- to 6.7-Foot for $86.99
8-Foot Full Size for $91.99
Sold by Great Function Item via eBay.
Features
water-resistant fabric with tape-sealed seams
fully-stitched waterproof floor
↑ less
Published 6/29/2021
Verified 7/28/2021

Popularity: 4/5
1 comment
BlueOak
That sloppy bulge of canvas looks exactly like an $84 truck bed tent.

Like where the unflattering clothing phrase "tent dress" came from.