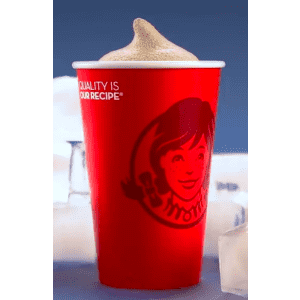 free w/ $2 tag purchase
at Wendy's
more
At participating Wendy's restaurants, buy a Frosty Key Tag for $2 and you'll get a Frosty Jr. for free with any purchase through December 31, 2022. Plus, 85% of the proceeds from every Frosty Key Tag sold will benefit the Dave Thomas Foundation for Adoption. Buy Now
Tips
Delivery may take 14 to 35 days.
↑ less
Expires 12/31/2022
Published 11/2/2021
Verified 11/30/2021

Popularity: 5/5

Staff Pick

Deals so good we bought one ourselves
3 comments
vannyc
Delivery may take up to five weeks or more to arrive, due to nonprofit postage.
The Oracle (DealNews)
@michael989 - I have bought mine from my local Wendy's location every year. Never ordered them.
michael989
I mean, let's be honest here. Back in the day you could buy your Frosty Pass right at the store and 100% went to the Foundation. Now, its shipped though the mail and is wholly managed by a private corporation, BlackBaud Inc. If you buy one key tag, then $1.70 of $4.00 (all in) goes toward the Foundation. That's a MEAGER 42.5% going toward the cause. Is that even legal? Well, it's not a donation by legal terms- rather, it's a purchase, and it's not tax-deductible. DealNews, which gets some kickbacks which can be considered semi-ethical at times are incorrect when they claim 85% goes to the Foundation. Let's fix this problem and get the funds to the kids. If you have ever gone from the frying pan into a foster home you'll know what I mean. I believe this offer is NOT Dave Thomas approved. Not one bit.