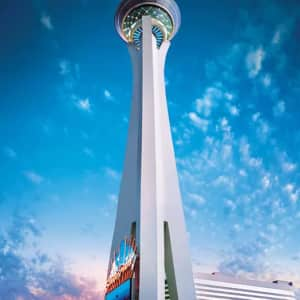 Tips
A $37 nightly resort fee applies and is paid directly to the property upon check-in.
Plans change? At least 3 days before your stay to avoid any cancellation fees.
Features
The Strat Hotel, Casino, & Skypod in Las Vegas, NV has an Expedia rating of 72% based on 17,421 reviews.
↑ less
Published 11/26/2021
Verified 12/22/2021

Popularity: 4/5
1 comment
michael989
A resort fee which is 220% MORE than the cost of the room is total garbage. Is $37 even a reasonable amount to charge, considering there may be hundreds of guests per night? At full capacity they would rake in $9,100 per day to keep the pool area maintained ($275,000 per month). What a rip- do they think we were born yesterday? Apparently nobody wants to stay there, thus the Groupon deal. In any case, I lost a lot of money at a slot that had about a 20% winning percentage, so if you stay there please avenge me and gamble elsewhere. I appreciate it.