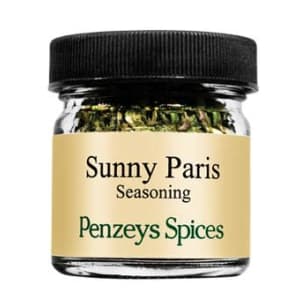 From $1
free shipping w/ $40
Save on four spice blends at Penzeys. Penzey's Cinnamon and French Tarragon are $1 each for 1/4 cup jars. Penzey's The New Curry and Sunny Paris Seasoning Blend 1/4 cup jars are $2. You'll save up to $5 per jar. (If you buy all four, that's $6 -- less than a single jar of the Sunny Paris seasoning at regular price.) Click on the circle that says "Offers" on the right side of the page to see the deals. Shop Now
Tips
Orders over $40 get free shipping. Otherwise, shipping is $8.95.
Posted by Amy.
Why does she love this deal? "I love Penzey's spices. They're always fresh and taste better than anything you get in the grocery store. Plus, they have unusual blends you won't find elsewhere."
Pictured is the Penzey's Sunny Paris Seasoning Blend for $2 in-cart ($4 off).
↑ less
Expired 10/11/2021
Published 9/30/2021
Verified 10/11/2021

Popularity: 4/5

Staff Pick

Deals so good we bought one ourselves
2 comments
cheapa_ss_for_the_people
Mr. Penzey is a bad person. If you believe a company should be a person, buy stuff from him. If you think religion is bad, buy stuff from him.