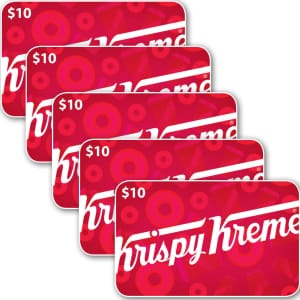 Up to 25% off for members
free shipping
Save on over 120 gift cards for restaurants, clothing stores and brands, services, and things to do. Shop Now at Sam's Club
Tips
Non-members pay a 10% handling fee.
Pictured are the Krispy Kreme $50 Value Gift Cards for $37.50 ($12 off).
↑ less
Published 11 hr ago

Popularity: 3/5
1 comment
wessymo
I fell for the "Related" "deal" for a $45 gift card if I sign up for a membership. One week later when I got to Sam's to get the gift card they told me the offer had expired and did not give me the gift card. Yet, it keeps showing up on dealnews. Not to mention these gift card deals are not very good, not new, and not nearly better than other sales going on. Why does this keep showing up here???