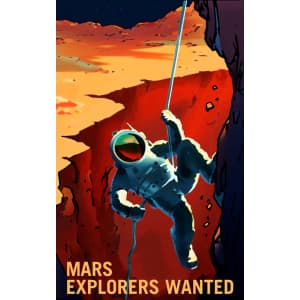 The 2021 - 2022 school year is just around the corner, so if you find yourself with a classroom to decorate or empty dorm room wall space to fill (or, hey, if you're like us and just have a slightly unhealthy fascination with the vastness of space), why not snag some free downloadable posters from NASA's Jet Propulsion Laboratory that double as both fun decor and a learning opportunity? Shop Now
Tips
Posted by Brittany.
Why does she love this deal? "As a self-proclaimed space nerd, I'll take any opportunity to learn more or enjoy beautiful pictures. Plus, you can't beat that price."
Features
23 options to choose from, including resources about Mars exploration, meteors and meteorites, the Kuiper Belt, and more
↑ less
Published 7/27/2021
Verified 8/26/2021

Popularity: 5/5

Staff Pick

Deals so good we bought one ourselves
2 comments
caffeinestix
isn't Mars actually just an uninhabited island in Canada with a red tint added to the pictures??