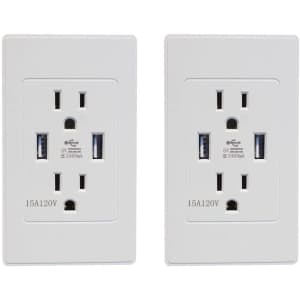 Tips
Sold by Hanlinus via Amazon.
Features
built-in smart chip
USB Type-A ports
4.8A 5V DC output
fits standard wall box
↑ less
3 comments
JanetReyes
In the listing, under "features", it says "Two DC 4.8A/5V USB ports with a super high current power" which could be interpreted as both ports supplying 4.8A (not combined amperage). Regardless, I would avoid this as the description is wrong and it is actually 2.4A per port. I wouldn't go with anything less than 4.8A per port.
Sudden
The 4.8A is the combined amperage of the two USB ports. It says this on the listing. Both USB ports are 2.4A as noted on the listing and in the picture.
JanetReyes
The description says the individual plugs are 4.8A but the item's title says 2.4A. Furthermore, the pictures of the back of the outlets show that this item is 2.4A not 4.8A. I would recommend never going less than 4.8A per usb plug (2.4 is woefully slow) and I do not believe these are 4.8A.