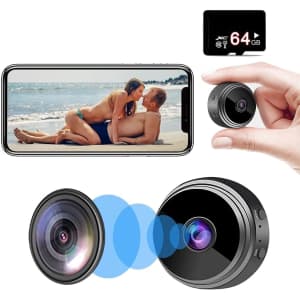 Tips
Sold by TopCam via Amazon.
Features
night vision
built-in magnet
motion detection
smartphone app control w/ Android or iOS
↑ less
3 comments
Procam
Amazing quality!
I went into this purchase not expecting a whole lot but was very early on surprised by the quality and ease of use. The latency through wifi is really good and easy to set up. The video quality is really good very surprising for such a small camera and better than anything close to its size. Its also cheaper than any other competition of the same quality. I have also been using it in a wet environment for the last 2 days and it works without a hitch. i would highly recommend this product to anyone and regularly do.
cru8
Seriously how good is a $20 camera going to be? Fakespot F rating on the company and F rating on the reviews for this product. I.e. most likely the same cheap chinese junk that is taking over Amazon these days.