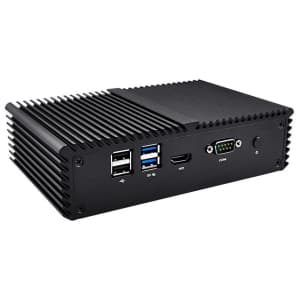 up to 61% off
free shipping
Save on a seclection of mini PCs from Bmax, XCY, Qotom, and MinisForum. Prices start at $90. Shop Now at Banggood
Tips
Pictured is the QOTOM i7 Kaby Lake Mini Desktop PC with 4GB RAM & 64GB SSD for $379.99 ($110 off).
↑ less
Expired 6/11/2021
Published 6/7/2021
Verified 6/8/2021

Popularity: 5/5
2 comments
Rob Dewhirst
I would echo mikeami999's comments. Don't buy anything from banggood that you will be upset about never receiving or receiving it as damaged, not as advertised, etc.
And the problems don't start at returns, they start at before you order. They have a habit of not telling you items are out of stock until 1-2 days after your order, then holding up an entire order because 1 item out of 20 is out of stock.
mikeami999
This is a horrible company to buy from. If you have any issues with your purchase. they will make you jump through hoop after flaming hoop. I sent them an email leting them know that the ethernet port did not work on the pc I received. They received the email and told me I needed to send a photo of the box and of the pc. I emailed them these photos to the exact same email address. "we didn't receive it", sent again, "we didn't receive it", repeat from different e-mail account, repeat with smaller photo size, repeat with etc, etc, etc. Just expext a run around untill it's no longer worth your time and trouble.