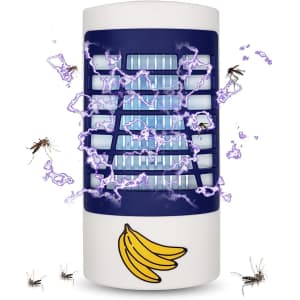 from $6.80 after coupon
free shipping
Apply coupon code "ONSD7SCU" for a savings of 60% off a selection of these bug zappers, from a single one to a 6-pack. Buy Now at Amazon
Tips
Sold by ZZFOGDVUZ via Amazon.
Features
Designed to zap gnats, fruit flies, and other indoor flying pests.
↑ less
3 comments
teachdj
I bought these. They do work great. I have 6 around the house. Each on has dead little gnats and other flying bugs in them all the time. Also, they kill quietly, no zaps.
Twism2u2
okay,let me get this straight, the bugs are attracted to the bananas and then ZAP. whew, I was having a blonde moment for a sec. thanks :)
thequietman44
5 star reviews are all for a different product. Red flags are waving, do your own research.