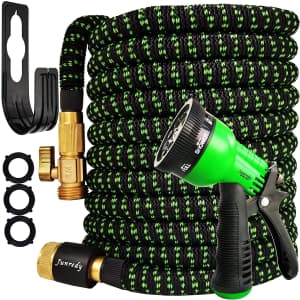 To take half off, apply coupon code "5WGXJVQM", and make this the lowest price we could find by $31. Buy Now at Amazon
Tips
Available in Black Green.
Sold by JunredyDirect via Amazon.
Features
expands from 25-feet to 75-feet when water pressure is activated
made of durable 3750D fabric w/ 3-layers latex
can withstand 3 -12 bar water pressure
41° to 113° Fahrenheit working temperature
3/4" solid brass fittings
includes hose hook and 8 function nozzle sprayer
↑ less
1 comment
pdot
Too bad the code doesn't work out the 50' version. Don't want to haul around 50% more hose when I don't need it.