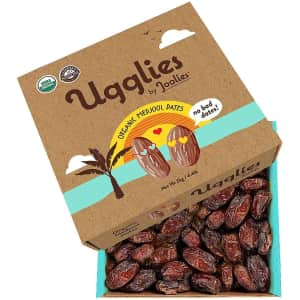 That's $15 less than you'd pay buying the non-"ugly" version from Joolies' Amazon storefront -- a difference of $0.32 vs. $0.51 per ounce. (For further comparison, in your local grocery store, you'd expect to pay around $9 each for 14-oz. boxes of non-"ugly" whole Joolies, or $0.64 per ounce.)

Update: Clip the on page coupon to drop it to $17.49. Buy Now at Amazon
Tips
Posted by Kathryn.
Why she loves this deal: "I only just discovered Joolies a week ago, and I'm already obsessed. Y'all, they're so good; it's like candy, but better, because it's not actually candy. I went looking for a deal for my own selfish purposes and stumbled across this bargain. And you can feel good about your purchase for reasons other than the price — an estimated 20% of all produce gets tossed in the landfill just for being "ugly". Not these! Maybe they're not as pretty as others (although who'd call dates "pretty" in the first place?), but you get the same taste and the same nutrients for a fraction of the cost. Beauty's in the eye of the wallet, amirite?"
These are whole dates, which means they're not pitted, which means WATCH YOUR TEETH.
Sold by Joolies via Amazon.
Features
naturally grown and handpicked in the Coachella Valley of Southern California
gluten-free, non-GMO, Kosher, and Halal
↑ less
Expired 10/1/2021
Published 9/26/2021
Verified 9/29/2021

Popularity: 3/5

Staff Pick

Deals so good we bought one ourselves