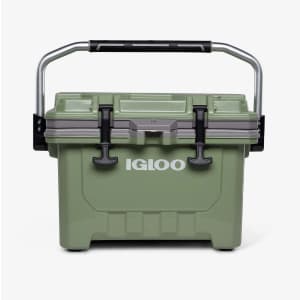 free Coolmate can cooler w/ hard/softside cooler
free shipping w/ $100
more
Choose from 80 hard or softside coolers and get a can cooler for free, meaning you can give twice the gifts this Father's Day (or be sneaky and keep one for yourself). That's a savings of $20. Pictured is the Coolmate IMX 24 Qt Cooler for $99.99 ($20 less than Ace Hardware). Shop Now at Igloo
Tips
Limit one per purchase, while supplies last.
Shipping adds $9.99, but orders of $100 or more bag free shipping.
↑ less
Published 6/8/2023

Popularity: 5/5
1 comment
IYFCalvin
Fair warning… their warehouse shipping and handling at Igloo in Plano is ultra slow. I ordered that same 24 qt cooler on a Monday. They provided a tracking number the next day, pretending they were shipping. one week later, Fedex still didn't have the box. I called Igloo and got extremely poor customer service, blaming it on FedEx. Guess what, they shipped it next day. (likely because I called), it will take three weeks from time I ordered till I receive it. Do not expect a fast delivery.