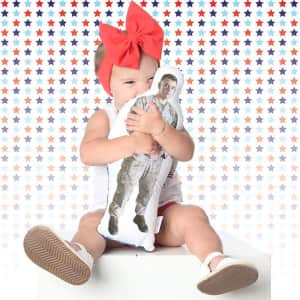 Save on a custom one-sided doll to comfort your little one. That's a savings of $7 off a small doll and $10 off a large doll. Buy Now at Hug A Hero
Tips
Choose from a variety of fabrics for the back.
Provide your image via email after your order.
Posted by Sandy.
Why does she love this deal? "We got our daughter a Daddy Doll before my husband's first deployment when she was 2 years old. She loved it! It was always very comforting to her when Daddy was away. She even took it to her first day of Kindergarten. (She's nearly 16 now and still has it!)"
Features
customized with image of a loved one
keepsake pocket
washable
made in USA
↑ less
Expired 10/13/2021
Published 10/13/2021
Verified 10/13/2021

Popularity: 2/5

Staff Pick

Deals so good we bought one ourselves