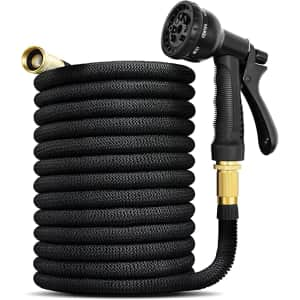 more
Tips
Available in L at this price.
Features
3/4" brass fittings
8 patterns nozzle
↑ less
2 comments
DaveVman
@pmurray63 That is the flaw with expandable hoses, I've been on the edge buying
pmurray63
I bought this hose earlier this year, and have used it once so far.

In my experience, it might reach 75 feet if you're holding it while the water is running, but for attaching a sprinkler and laying it on the ground, no way. Using this and a sprinkler, there are areas of my lot that I cannot reach.