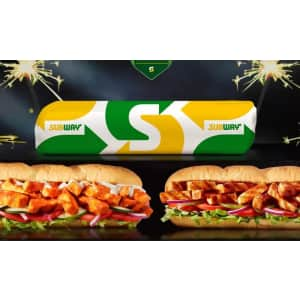 Choose your next dining out experience from over 200 options, including Subway, Dominoes, Outback Steakhouse, Burger King, and many local spots. Shop Now at Groupon
Tips
We saw higher discounts within the sale itself; offers vary by location.
Pictured is the Subway Any One Footlong with Free Cookie for $8 ($1 savings).
↑ less
Expired 11/10/2021
Published 11/5/2021
Verified 11/8/2021

Popularity: 5/5
1 comment
michael989
Although DealNews does admit that the Subway deal is a meager 99 cents discount, they are currently hoarding the internet with misleading implications, showing a Subway with the phrase "50% off". Hey, DEALNEWS!! You would become a reputable source if you told the truth in bold print. What, exactly, is your kickback if I make the purchase through your site? It must be good.