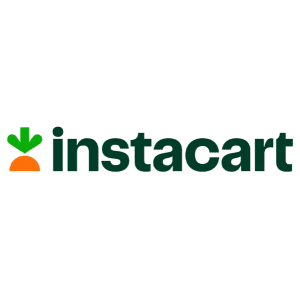 Order delivery or pickup at stores near you
Order groceries & much more from your favorite local stores for same-day delivery or curbside pickup. Even better, save on select items featuring special discounts and coupons. (Availability and pricing varies by retailer and ZIP code.) Shop Now at Instacart
Tips
Get two weeks of free delivery on orders of $35 or more when you sign up for a 2-week trial of Instacart Express. (Service fees still apply.) For new customers, a sign up option should appear at checkout for orders over $35. A popup window for this offer may also appear while you are shopping.
Features
Shop 40,000 local stores in 5,500+ cities across the U.S. & Canada.
Order from Costco, Sam's Club, & BJ's Wholesale Club, without a club membership.
Delivery fees start at $3.99 for same-day orders over $35. Service fees also apply.
Curbside pickup is available at select retail locations (fees may apply).
With an optional Instacart Express membership, you can get a $0 delivery fee on every order over $35 and lower service fees. Express memberships are available for $99/year or $9.99/month.
↑ less
Published 5/2/2022

Popularity: 1/5