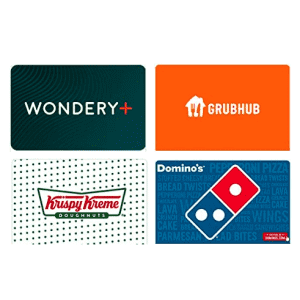 Up to $15 in Amazon Credit w/ purchase
digital delivery
more
Earn up to $15 in Amazon Credit with purchase of a range of gift cards, including Fandango, Krispy Kreme, Nordstrom, NFL Shop, and Grubhub. Shop Now at Amazon
Tips
Enter the coupon code as seen under each deal on the landing page. (A minimum purchase amount is required.)
The Amazon Credit will be emailed to the purchasing Amazon account within three days of delivery.
↑ less
Expired 11/30/2022
Published 11/25/2022
Verified 11/26/2022

Popularity: 5/5

Staff Pick

Deals so good we bought one ourselves
3 comments
Another_User
FYI: watch out for the multiple food or merchant combo cards, they are online ONLY. Read the small print in the pics shown, 3 out of 5 shown at the bottom are not useable in store: you must purchase online.