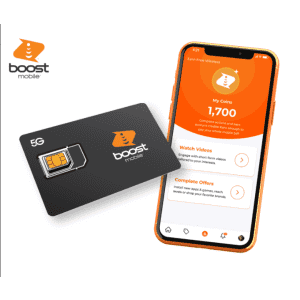 Boost Mobile · 6 days ago
99 cents for your first month + free sim
free shipping
At Boost Mobile, get 2GB of 5G/4G LTE data for 99 cents for your first month, reduced from the normal price of $15 per month. Buy Now at Boost Mobile
Features
93% off 2GB 5G/4G LTE ($15/mo. value)
Unlimited Talk & Text
FREE SIM Kit ($9.99 value)
FREE Shipping ($4.99 value)
New customers and online only!
includes mobile hotspot
works on most unlocked GSM phones (iPhones require iOS 15.2 and higher)
After your first month, you will pay $15/mo.
This works on Boost Mobile's Expanded Data Network.
↑ less
Published 1/18/2022

Popularity: 2/5