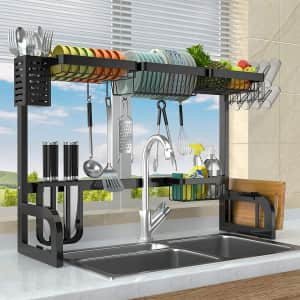 Tips
Sold by Junyao US via Amazon.
Features
measures 33.5" to 41.3" L x 20.5" H x 12.6" D
removable/adjustable racks, shelves, baskets, and hooks
201 stainless steel
rust-proof
supports up to 77.16-lbs.
anti-slip suction cups
↑ less
1 comment
michael989
Who the Hell would want this monstrosity? Get a drying rack, not something that will drip cool water back on your hands, and block the window view. Enough of this crap already.