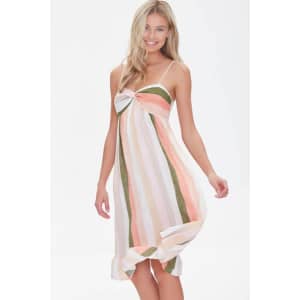 up to 70% off + up to an extra 30% off
free shipping w/ $50
Save on hundreds of styles including shirts, jeans, and dresses. Plus, use the codes below for additional discounts up to 30% on select items. Shop Now at Forever 21
Tips
Exclusions apply. See Details for code eligibility.
Shipping adds $5.95 or get free shipping on orders of $50 or more.
15% off no minimum via code "BMSM15".
30% off $85+ via code "BMSM30".
20% off $65+ via code "BMSM20".
Pictured is the Forever 21 Women's Striped Cami Dress for $13.60 after code ($4 off).
↑ less