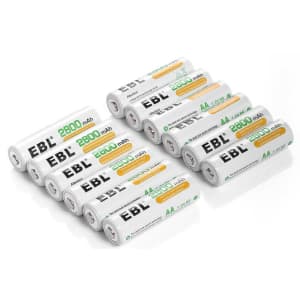 more
Save on a large selection of quantities and capacities. Two sizes are available, AA and AAA. Shop Now at eBay
Tips
EBL 2800mAh AA NiMH Rechargeable Batteries 12-Pack pictured for $22 ($22 off).
↑ less
Published 7/18/2022
Verified 8/4/2022

Popularity: 4/5
2 comments
JGINCT
ENELOOP rechargeables are the best. I've had a batch for well over 10 years and they are just failing now.
AgentX
I have purchased many of these in AA and AAA. I have not had good luck with either. Some were DOA, many died within weeks or a couple months. Very small percentage are still usable. I would stay away from this brand.