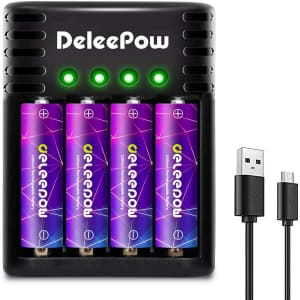 Apply coupon code "GJGF24VD" for a savings of $12, which drops it a buck under our mention from three weeks ago. Buy Now at Amazon
Tips
Sold by zhengnengda via Amazon.
Features
includes 4 1.5v 3,200mWh lithium AA batteries
charges up to 4 AA/AAA li-ion rechargeable batteries
↑ less
1 comment
fontan16
I have these 32 batteries. The most important feature that they produce 1.5V (not 1.2V like most of the rechargeable ones ) and have excellent capacity (3200mWh) . I've been using these in my trail cameras for over 1.5 years and they work better than non-rechargeable brand names. Usually operational documentation for trail cameras strongly discourage from usage rechargeable batteries. I don't know why. These batteries work great in the cameras. Highly recommend these if you need high capacity battery producing 1.5V .