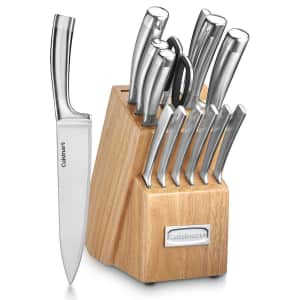 $72 w/ $10 Kohl's Cash for members.
$110
free shipping w/ $75
Apply codes "GOSHOP20" and "GET20" to get a low by $38; most charge around $126. Buy Now at Kohl's
Tips
Opt for in-store pickup to dodge the $8.95 shipping charge or shipping is free on orders of $75 or more.
Only Kohl's Rewards members can use code "GET20". (Not a member? It's free to join.)
Kohl's Cash is redeemable October 4 through 17.
Features
8" chef knife
8" serrated bread knife
8" slicing knife
7" santoku knife
5.5" utility knife
3.5" paring knife
6-4.5" steak knives
8" sharpener
stainless steel shears
wooden block
↑ less
Code "GOSHOP20"
Code "GET20"

Expired 10/4/2021
Published 9/29/2021
Verified 10/1/2021

Popularity: 2/5

Staff Pick

Deals so good we bought one ourselves