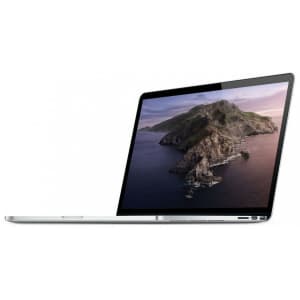 This 768GB model is only $43 more than this seller charges for the 512GB model; it's also $2,108 off list. Buy Now at eBay
Tips
Note: This has the same model no. as the 512GB model, and the eBay page lists it as having a 768GB capacity and 512GB capacity in different places. We think it's the 768GB model, but if you're not convinced, it may be worth contacting the seller.
This is a certified refurbished item backed by a 2-year warranty from Allstate.
Sold by DoubleDexMacBooks via eBay.
Features
Intel Core i7 2.7GHz quad-core processor
15.4" 2880x1800 LED retina display
16GB RAM, 768GB SSD
2 USB 3.0 ports, 2 ThunderBolt 2 ports, HDMI
MacOS 10.12 Sierra
↑ less
Expired 6/14/2021
Published 5/20/2021
Verified 5/20/2021

Popularity: 3/5