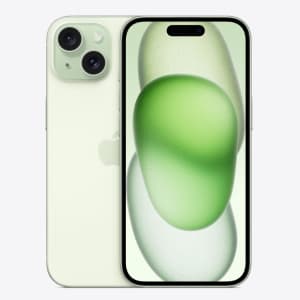 Free w/ trade-in
free shipping
more
Verizon customers on a qualifying Unlimited or 5G plan can trade in a qualifying device to get an iPhone 15 128GB for free. Shop Now at Verizon
Tips
You'll receive the savings in a mix of instant trade-in credit and bill credits.
A $35 activation fee applies.
↑ less
Expired 11/1/2023
Published 10/10/2023

Popularity: 4/5

Staff Pick

Deals so good we bought one ourselves
3 comments
BlueOak
It also does not require a rocket scientist to click on the Verizon home page where you will find a pre-registration for the iPhone 15 when it is released.

BTW, AT&T is also offering the iPhone 15 free.

BTW2, these "free" or near free phone deals are actually the mobile phone industry's way to lock you in for 3 years… since the way they give you the deal is with a zero interest installment loan. Every month your bill shows a full price 1/36th of the MSRP of the phone charge + a monthly 1/36th credit offsetting that full charge. Leave the carrier, lose or break your phone and you are still on the hook for the full price of the phone. Not really "free". Comes with strings.