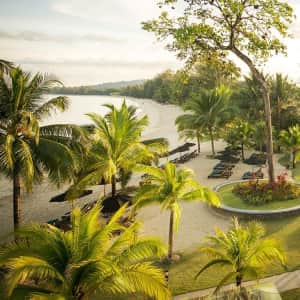 That's the best rate we could find for an 8-night stay by at least $946. Even better, all meals, select drinks (even alcoholic ones), 1-way airport transfers, and a 30-minute Oriental Herbs Salt Body Scrub for two are included. You'll also receive complimentary use of the WellFit Spa, plus daily activities and entertainment with shows, live music, courses, and themed evenings. Buy Now at Travelzoo
Tips
10-night vouchers are also available for $1,119.
Book this travel voucher for stays from October 1, 2021, through December 23, 2022.
Until the voucher's expiration date, Travelzoo will offer a full refund if you can't find suitable travel dates. Once a reservation has been made, cancel with the hotel at least 14 days prior to arrival and contact Travelzoo for a refund.
Prices include VAT.
Features
The 5-star Robinson Khao Lak Resort has an Expedia rating of 92% based on 68 reviews.
deluxe double room with a private balcony overlooking the resort gardens
on-site activities like golf, tennis, guided bike tours, archery, and Muy Thai boxing
9 bars and restaurants on site
discounted additional nights
↑ less
Expired 10/14/2021
Published 9/28/2021
Verified 10/13/2021

Popularity: 4/5

Staff Pick

Deals so good we bought one ourselves