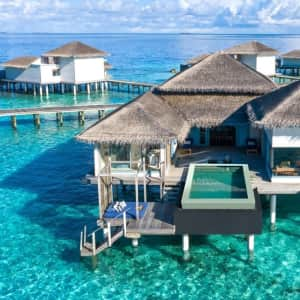 more
That's $1,724 less than booking this ultra luxury resort stay directly. Plus, you'll snag a wealth of perks, including daily breakfast and 3-course dinners, an hour-long massage for 2, and airport transfers (by plane and speedboat). Even better, this price includes VAT and service charges - which add over $1,500 to rack room rates directly. Buy Now at Travelzoo
Tips
Book this travel deal for stays through November 30.
Cancel within 14 days of purchase for a full refund. (This period can be extended during checkout.) Once you book with the resort, all changes and cancellations are subject to the property's policies and must be made at least 14 days prior to arrival.
Features
The 5-star Raffles Maldives Meradhoo opened in 2019 and has an Expedia rating of 100%.
↑ less
Published 3/7/2023

Popularity: 3/5

Staff Pick

Deals so good we bought one ourselves