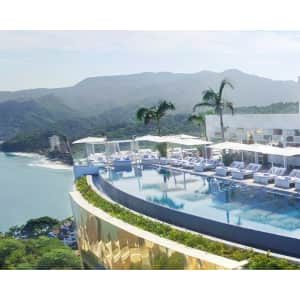 That's a low by at least $445 for a fully-refundable 3-night stay in a brand-new oceanfront suite with a private plunge pool. Even better, you'll get a $50 resort credit, complimentary daily breakfast, and a free bottle of wine ($50 value). Leave the kiddos at home -- this adults-only resort sits on an 85-acre nature preserve and features a rooftop bar and infinity pool, ground-level panorama-view pool, and a private beach with a breakwater. Buy Now at Travelzoo
Tips
Starting at $999, you can upgrade to an Ultra Mousai Suite, which includes exclusive butler service, a private terrace, and jacuzzi.
Book this travel voucher for stays from November 15, 2021, through December 20, 2022. (We found the best rates from November 15 through December 20, 2021, and from April 17 through December 20, 2022.
Until the voucher's expiration date, Travelzoo will offer a full refund if you can't find suitable travel dates. Once a reservation has been made, cancel with the hotel at least 7 days prior to arrival and contact Travelzoo for a refund.
A 19% tax is not included and will be paid directly to the hotel.
Features
The 5-star Hotel Mousai in Puerto Vallarta, Mexico, has an Expedia rating of 96% based on 412 reviews.
access to the full Garza Blanca property, whose other hotels surround Mousai
access to multiple restaurants and bars
↑ less
Published 9/24/2021
Verified 10/21/2021

Popularity: 4/5

Staff Pick

Deals so good we bought one ourselves