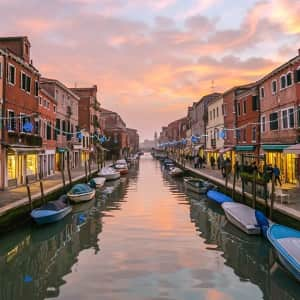 Save at least $197 stays on this 4-Star Murano Island stay - plus, book with Travelzoo's added perks, including 100% refunds in case travel plans change, a daily breakfast, and welcome glass of wine. Buy Now at Travelzoo
Tips
Book this travel deal for stays through May 2022.
This travel voucher is fully refundable in case travel plans change. (Cancel with the property at least 14 days in advance and contact Travelzoo for your refund.)
While this price includes hotel taxes and fees, a local tourism tax is applicable and payable at the property.
Select dates, such as Carnival, Easter, and Christmas incur additional surcharges.
Features
The 4-star Hyatt Centric Murano Venice (on Murano Island) has an Expedia rating of 92% based on 988 reviews.
daily breakfast
visit to glassblowing factory & showroom
airport transfer
↑ less
Published 5/24/2021
Verified 6/17/2021

Popularity: 3/5