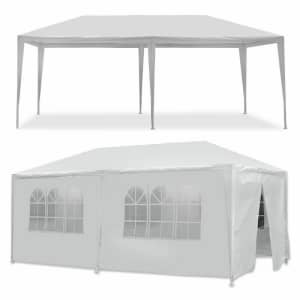 Expired 5/25/2022
Published 5/18/2022
Verified 5/18/2022

Popularity: 3/5
1 comment
BlueOak
Is this FleaBay product up to Dealnews standards, whatever those might be? Was about to wonder how can this large tent be durable at $88, much less its $98 list price… then read the seller's own disclosure in broken English, red (ironic), lettering:

"Please Read Below Belore You Purchase
This type of party tent is designed for party event ONLY
They are met to be used as temporary cover,not for daily use.
The Waterproof Material Cover are not met to be up in the wind or any rain Condition that will cause pooling on the top.
These conditions will cause most thets to collapse.We are NOT accept any returns after you already use it."

Hard pass.